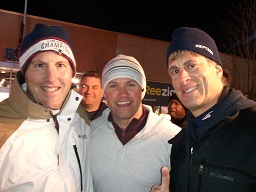 As discussed today on a special holiday edition of LeftRightAndCorrect.com with Dan Belforti & Friends, every other Friday at noon on 106.1 FM, Portsmouth Community Radio, the Belforti Bros released their NFL Week 12 Picks vs the spread.
SD -6 vs Denver - Revenge game for SD who lost to Denver 29-24 earlier in the year. Must win for Chargers who have lost 5 straight and are two games behind Oak. SD had a big game running the ball in last meeting.
Atlanta -9.5 vs Minn - Viking have no Adrian Peterson. Falcons can also exploit week pass D of Minn and Vikings have also allowed ave of 125 rushing yards last 5 games.
NY Jets -9.5 vs Buffalo - Both teams are struggling but Buffalo put two more players on injured reserve this week including leading rusher, Fred Jackson. Both teams are two games behind Pats in their division.
Others
Bengals -7.5 vs Clev - Cincy had two tough losses last 2 weeks vs Pitt and Balt and play Browns who they beat in week 1, 27-17. Browns have a ton of injuries and have only scored 20 pts just once this season